Your roof is one of the most overlooked general maintenance parts of a home. Without time, care and attention, roof repair bills can stack up at the most unexpected times. Be proactive. Let Nexus provide a solution that puts you at ease. The double-backed Owens Corning & Nexus lifetime guarantee ensures a partnership for life. Nothing feels better.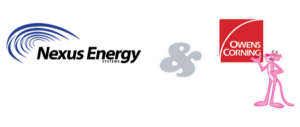 Roofing Warranty
Our roofing installation is covered by two warranties, and two companies. We work with Owens Corning to ensure all service & maintenance never skips a beat, for the life of your roof! Get a roof & solar combo for $0 out of pocket and get the same coverage on your solar system. Worry-free is an understatement.
Owens Corning Cool Roof TechnologY
Why only go halfway when making your house energy efficient? Owens Corning Cool Roof allows for higher UV reflectance, reducing the heat transfer into your home which means lower utility bills and higher home energy efficiency. It pays for itself!
What is a cool roof?
A cool roof is a roofing system that delivers higher solar reflectance (the ability to reflect the visible, infrared and ultraviolet wavelengths of the sun, reducing heat transfer to the building) and higher thermal emittance (the ability to radiate absorbed, or non-reflected solar energy) than standard designed roofing products.